We value our customer Relationships
There is nothing more important to us than our customer relationships. That was our philosophy back in 1989 and that is still our philosophy today. 90% of our sales remain to be repeat and referral business.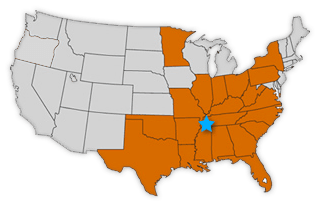 In an age where companies payout hundreds of thousands of dollars to attract new customers daily, we like to keep it simple by just taking care of our customers on a daily basis. We find that by doing that, our customers take care of us in return. Have you ever bought from someone that was overly friendly just to find that they didn't know you later when you needed help? We certainly have. That is why you are more important to us after the sale than before. If you have a concern, we will not run from it. It will be our priority and we will work with you to resolve it quickly.
Our customer relationships started locally in the Mid-South and have grown North, South, East and West to include 22 states in our great country. These relationships continue to be our most proud accomplishment.